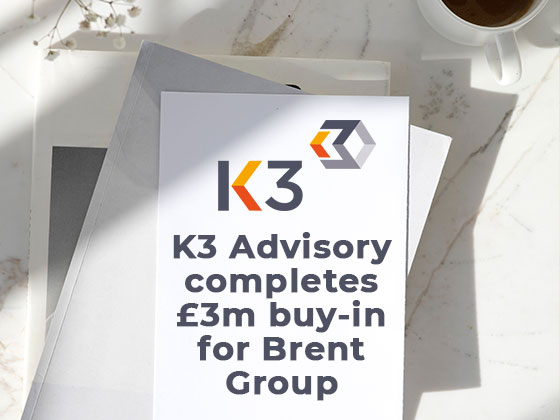 K3 Advisory completes £3m buy-in for Brent Group
K3 Advisory, the provider of specialist independent bulk annuity and consolidation advice to the pensions industry and Fiduciary Managers, today announced the successful completion of a £3 million buy-in deal for the defined benefit scheme of Brent Group, a family-owned business which includes the digital marketing and brand agency, Brand Remedy. The deal with Just Group was for two deferred members and 13 pensioners and completed on 25 March.
Thomas Crawshaw, Senior Actuarial Consultant and transaction lead at K3 Advisory, commented: "Our advice to small schemes continues to be same – 'be transaction ready'. Over the last year, Western Pension Solutions provided strategic advice to the Company, and helped them run a member option exercise. K3 worked with the Trustee to prepare the scheme for market. This meant that as investment markets moved in favour of many small schemes, including Brent Group's, they were ready to transact and immediately make the most of the opportunity that was presented to them."
Richard Silbermann, a Director of Brent Group, stated "When we started out on our buy-out journey in early 2020, we could not have foreseen the changes that would come our way. But thanks to careful preparation and due diligence from our professional advisers, we have managed to secure members' benefits at a significantly lower cost than had been originally estimated. A great result all round and a testimony to the work of the team during these challenging times."
Independent Trustee Duncan Willsher, of 20-20 Trustees, commented: "We are delighted to have been able to secure members' benefits for the future at a cost that works for the Company. It is great to see that scheme size is not an inhibiter to securing great outcomes, when teams work together and projects are executed well and efficiently. K3 Advisory, along with all the other parties involved, worked seamlessly in partnership with us to achieve this first step and we look forward to continuing the journey with them as we move towards full buy-out."
Peter Jennings, Business Development Manager at Just Group, commented: "This transaction shows that small can be beautiful in the DB transfer market. This was an important deal for the Trustee and we worked hard, along with their other advisers, to make sure we could secure benefits for their members at a cost that was affordable to the Company. An important part in achieving this so efficiently was that the scheme was well prepared so we could progress quickly to meet the Trustee's objectives."
Other points to note:
Legal advice to the Trustee was provided by Mills & Reeve. Scheme Actuary and administrators are First Actuarial.
Media Contacts
For all media enquiries please contact KBPR using the details below:

Kate Boyle: 07930 442883 │ kate@kbpr.agency
Andrew Pearson: 07960 984228 │ andrew@kbpr.agency