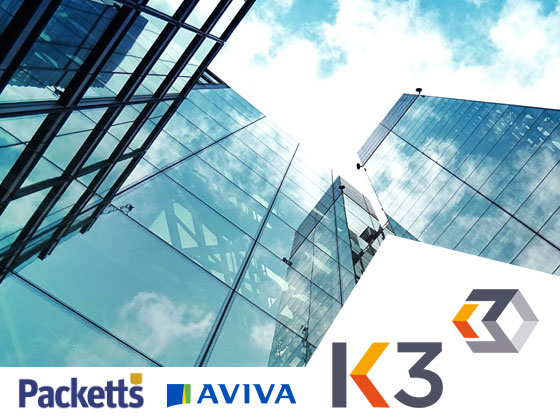 K3 Advisory completes £5m buy-out of Sydney Packett & Sons pension scheme with Aviva
K3 Advisory, the pension market's only specialist independent bulk annuity and consolidator advisory business, today announced the successful completion of a £5 million defined benefit scheme buy-out deal for Sydney Packett & Sons Ltd, a hundred-year-old family-owned insurance business. The deal with Aviva secured the benefits for all eight members of the scheme.
Thomas Crawshaw, Senior Actuarial Consultant and transaction lead at K3 Advisory, commented: "What this deal shows is that no scheme is too small. If the scheme is well prepared, and an efficient process such as ours is run, then small schemes continue to be very attractive to the insurance market. Our advice to small schemes is to ensure that you are transaction ready now, so that you can make the most of market opportunities as and when they present themselves to you."
"Working alongside Western Pension Solutions, Shoosmiths, Isio and gcTrustees, ensured that the process was smooth and efficient, and that we were able to meet the Company and Trustee's ultimate objectives. In advance of the transaction, Western Pension Solutions provided strategic advice to the Company and helped them to run a member option exercise making the transaction more affordable too."
Marshall Sugden, MD of Sydney Packett & Sons, adds, "We could not have chosen better partners to complete the buy-out process. This is an excellent testimony to the work of K3 Advisory, WPS and the other partners who worked collaboratively to ensure that we achieve the best results for the Company, the Scheme and, most importantly, the members."
Adam Bushby, a director of professional trustee company, gcTrustees Limited, and sole trustee to the Scheme comments: "We are delighted to have been able to lead this cost effective solution to securing our members' benefits into the future within just three months of our appointment as sole trustee, bringing to bear gcTrustees' considerable transactional experience and project management skills. K3 Advisory, along with all the other parties involved, skilfully guided us through the process achieving a rapid and successful conclusion."
Jamie Cole, Head of Bulk Purchase Annuity Origination at Aviva, said: "Aviva is a whole of market provider and we continue to help schemes of all sizes on their de-risking journey. This transaction demonstrates that smaller, well prepared schemes can access attractive pricing when supported by an efficient process such as this one."
K3 Advisory – Notes
K3 Advisory is the pension market's only specialist independent bulk annuity and consolidator advisory business. Using first-hand experience from both the insurance and pensions sectors, K3 Advisory provides trustees and scheme sponsors with advice and brokering services to secure a smooth and effective transfer of liabilities to an insurer or consolidation vehicle.
The business was founded by Adam Davis in 2018 with the aim of improving the efficiency of the bulk annuity and consolidation markets for the benefit of all involved. The business is backed by the Vestey Holdings Group, a fourth-generation family business whose origin date back to the 1890s.
See www.k3advisory.com for more information.
Media Contacts
For all media enquiries please contact KBPR using the details below:

Kate Boyle: 07930 442883 │ kate@kbpr.agency
Andrew Pearson: 07960 984228 │ andrew@kbpr.agency